Posted by Kim Brooks on 1st May 2014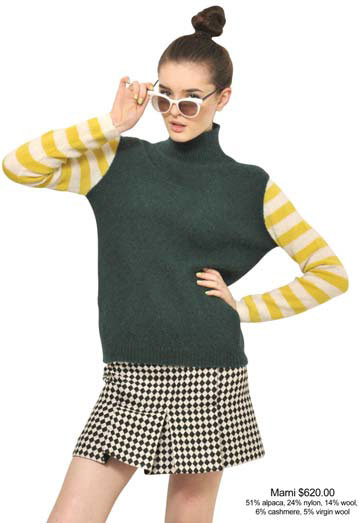 In fashion, trends are ever emerging. Someone creates a buzz and before you know it, you see it everywhere. By the time they're hot, they are on their way out, and the next trend is taking hold. That's the nature of fashion, fresh, new, the next reason, the next season the next opportunity to motivate someone to buy another garment.
Trends in business are ever emerging as well. What did we do before Facebook and Twitter? The whole social buzz trend is still being dissected to get "the edge" or come up with something that will go viral.
Sometimes these trends have a silver lining. It's good that businesses are taking serious measures to impart green practices. The problem is when they take steps to make it look like they are socially conscious, when in reality they are just, pardon my pun, pulling the wool over.
The alpaca business has always been one of a holistic nature. I think that's one of the very reasons it attracts us. Raising alpacas and promoting their fleece from farm to fiber, has been something to be proud of.
The problem with trends in business, like trends in fashion, is that by the time it's popular, the next trend is taking hold. For a lot of us, by that point, it's too late. The trouble with trend chasing, be it fashion or business, is that trends can be a costly endeavor, with little lasting value. Trends canalso do damage to our integrity and ourselves, not just our business. Sometimes we take an action because everyoneelse is doing it, only to find out later that it has come back to bite us on the butt.
The beauty of small business is that our businesses are an extension of ourselves, which is why small business matters so much to the framework of our countries. What we choose to bring to the marketplace should be the underlying holistic goals our countries were born of; a foundation based on a moral compass, integrity.
Buy American is a very big trend. It is the patriotic thing to do, right?
To be all-American these days is a luxury proposition. Mike Catherwood, 34, admits as much. The co-host on the radio advice show "Loveline" tried buying only American-made products as part of a yearlong experimentchronicled on his Domestic Journey blog.
It's definitely more expensive [to buy American-made products]," Catherwood said. He started the experiment in January of 2012 and his aim was to draw more attention to American-made goodness. Instead his experiment unearthed the new truth about American-made products: The only people who can afford to buy them are the richest ones. "I am capable of it," he acknowledged, "but I don't think it's feasible foreveryone to do this."

I have an easy exercise for you.
It will only take a few minutes; I know you have five minutes to do something that will help you in your business! The only way to mess this up is to not be honest, as you are your teacher in thisexercise.
Now, go to your closet andgrab three different random items of clothing.
Look at them and write down why you bought or got each one. Was it a "gotta have it" item? Was it a gift? Was it a special need or for an event? Maybe it was the color that grabbed you. Perhaps it was a sale or a value toogood to miss. Write them down, penmanship doesn't matter.
Next to "why you got them", write down where you got them: specialty store, large retailer, internet, gift, etc.
Lastly, lay them down and open them up, look at the content label and the country of origin. Is this the first time you looked at that? Did any of the information you found on the label contribute to the purchase of that item? Did you look at the label in the store? Did that cause you to put down an item and not purchase it?
Go back to why you purchased it - were any of those statements because it was made in North America?
Of the dozen or so of friends I asked to perform this exercise for this article, the resounding result was that people thought they cared where their clothing was made, only to realize there were emotional and other factors that contributed to their purchases. In the end, where a product was made had little to do with the purchase.
Michael Hasler is the director of the Master of Science in Business Analytics program at the McCombs School of Business. In this age of globalization, he says, "The label does not tell the whole story, not by a long shot. There are few consumer items you can purchase in the U.S. that don't have some level of international content."
Many US clothiers who are showcasing that their products are made in America are in fact making them from imported materials. The US alone imports more than $113 billion in textiles and apparel from dozens of countries around the globe each year.
If we look just at the apparel industry, Joseph Abboud, from the Men's Warehouse stated in a recent FOX Business interview, "Traditional wholesale and retail business doesn't exist the way it did twenty years ago. We have availability to the finest textiles in the world, it would be wrong not to use them, to deny the customer that experience."
Studies show that a "Made in America" sticker on a product increases the likelihood that the product will be purchased by 6%. Other taglines like "best seller" or "peoples choice" increase the likelihood by 10%. The mitigating factor is that the product has to be something that was desired in the first place.
I recently saw a post about a breeder who has "made a conscious decision to add only US made alpaca products to [her] farm store." She has access to knitters who make products for her store. If she feels that is in line with her core goals, then I say great! – It's the nature of small business. If that is the niche she sees void then its right for her entrepreneurial spirit to address it.
Individualism holds that people's interests do not conflict – rather they compliment, provided we are speaking of self-supporting individuals who pay for what they get. Where there is free trade, the exchange of value for value, one man's gain is another man's gain.
In a tough economy, some small- business owners try to boost sales by rethinking their marketing campaigns, while others concentrate on increasing customer loyalty. Still others jump on the trends hoping that they will bring in the masses. Instead of hopping on a bandwagon, empower yourself with facts that will make growing possible and probable.
Your customers buy your product or service for a reason. Before you can identify how to improve it, you need to understand what your products' greatest benefitsare. If it's alpaca, the greatest benefits are that its alpaca and all the benefits alpaca offers, bottom line. The rest is all marketing. Remember a customer wants to know what a product will do for them.
I had a customer ask, "What do I say when people ask me if the products are from my animals?" I told her, tell the truth. What is that truth? It's that, as we stand as a fiber industry in North America, there are but a few commercial processors creating limited products made from our fiber. In order to spread awareness of alpacas and the properties of alpaca fiber, we sell a broad range of products for many needs, not made from our farms personal fiber.
She has found that selling yarn from her alpacas is a good way of showcasing her alpacas to those who knit and crochet. Those who don't are able to find the products that fit their lifestyle in her store.Another asked, "How do I justify the cost of alpaca?"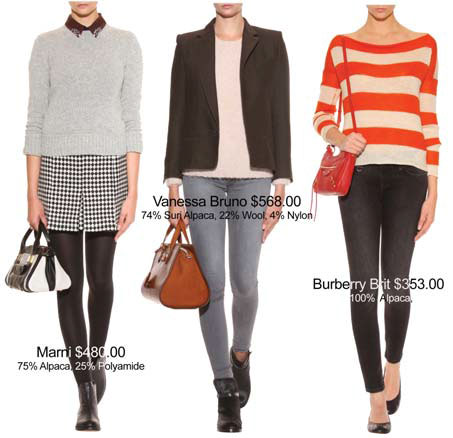 Inherent Value = $ Price
Rarity = $$ Price
Handmade = $$$ Price
Market Price = ?$?$
I could write a whole article on this and I think I have. To be brief, you have to again educate yourself on the benefits of alpaca and what it offers to the wearer. Understand how blending alpaca affects the cost and performance. Understand its rarity in the marketplace. Don't lose sight of the fact that you see it every day but your customers rarely do. Understand how articles are made and how much automation or handwork goes into different types of articles, and the costs of such. Educate yourself on the market price of alpaca. Understanding this information is paramount in being a successful alpaca product retailer. Remember, you are in the forest, you're used to seeing trees. Don't forget the value!
Now this is not to say you should sell items at this price, rather it is to be aware of what alpaca and alpaca blends are selling for. This way you can educate yourself and others, like your customers, and understand a realistic true market cost for your offering.
The free market system allows both retailers and consumers to find the best product that fit the desired value proposition. Retailers want to purchase products at the lowest cost and sell it for the highest amount their market will bear. Consumers look to find the price that meets their value proposition expectation. I have had educated retail consumers tell me "if alpaca is too inexpensive, it can't be real, and they aren't going to purchase it. You get what you pay for."
I am an alpaca-clothing designer and sell my own product lines. In my business we focus on creating the best alpaca products, period.
I started making pure alpaca apparel back in 1999 out of a personal need. At that time the options for fashionable alpaca products were very limited. I wanted alpaca clothing I would actually wear, and be proud to showcase on my body. I wanted dynamic, buttery soft, well made, fashionable alpaca that would help me sell alpacas as a concept help promote breeding stock from my farm.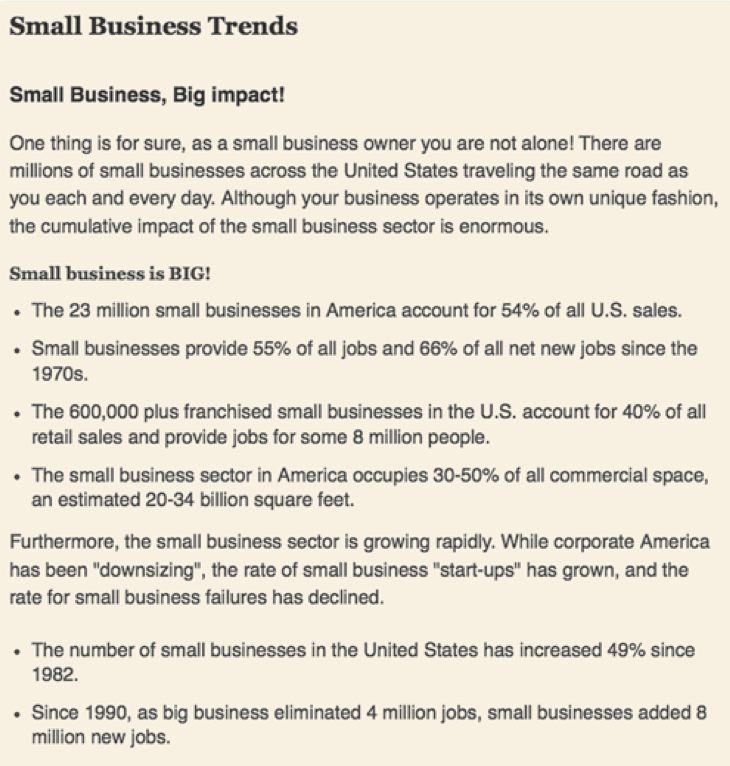 My only option then was Peru, and today I still choose to make them in Peru. Why? Because that is where the best alpaca products are made. They have decades of experience in crafting alpaca products that are of the highest quality and made to last. I work with knitters and weavers who have generations of experience working with alpaca.
If I wanted the cheapest I could go to China. They are making alpaca goods. I get solicited all the time from Vietnam, China and other Asian markets. They don't have the experience working with alpaca, nor do I have the trust that what they say is in an item is actually there.
I have explored making them in the USA. With the fabricators in the Los Angeles area you would think I could get them made. All attempts have been for naught as the understanding of how to work with the fiber to make quality items is not a skill I can find there. The time and efforts in working with alpaca leave companies and knitters frustrated and result in products I will not put my name to.
I do, however, employ workers: Assistants, a bookkeeper, Internet gurus, stylists and others. This business has created jobs for more than a few Americans. I use local services and pay my local taxes. I use UPS, FedEx and the USPS, all major job providers. My American business plays a part and when we sell to the UK, Germany, Norway, Australia, South Africa, Cyprus, the Netherlands, and countless other countries, we are supporting America.There are relatively few options for "Made in America" alpaca goods, other than socks. The types of products I specialize in are not in that category. I want to be sure I am selling my customers quality products that will wear the very best for the longest and showcase the benefits of alpaca to its fullest potential. These are the same goals I began with and are a core part of my moral compass.
Regardless of where you get your alpaca products, and today retailers do have more choices than ever before, I hope you want to offer the same to your customers.
So, is buying from Peru anti- American? Education matters so lets look at some facts.
Did you know that Peru is currently the US's 42nd largest goods trading partner with $14.9 billion in total (two- way) goods trade during 2011? Goods exported to Peru totaled $8.3 billion; while imported products totaled $6.6 billion. The US goods trade surplus with Peru was $1.7 billion in 2011. That's right, we actually exported more products to Peru than we imported in 2011. Since 2000 exports to Peru are up 402% and up 35% just in three years (2008- 2011).
Canada has a unique position on trade with Peru. Their mandate is to promote Canada's economic interests in Peru [and Bolivia] and to support the efforts of Canadian companies who have selected Peru or Bolivia as a target market for their products, services or technologies. They also provide assistance to Peruvian and Bolivian clients by matching their needs with the appropriate sources of Canadian products and services.
Want specifics? Please take a look at the chart.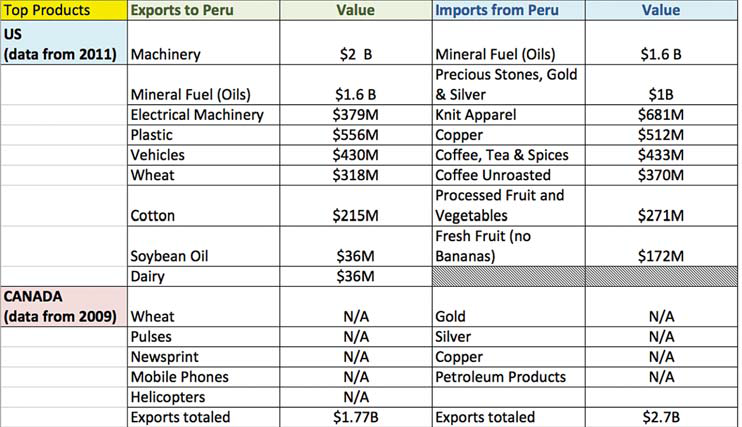 Why do the US and Canadian Governments want to buy from Peru? It's because they want to sell to Peru. It's global economics.
Remember when I mentioned that the US imports more than $113 Billion in textiles and apparel from dozens of countries around the globe each year? In contrast the percent of that that comes from Peru is slightly more than 1⁄2 of a percent.
The lucrative workings of free markets do not depend upon lines drawn on a map. The economic advantages of international commerce are the same as those of interstate, intercity, and crosstown commerce.
Lets take a look at the very magazine you are holding for a second. Answer these questions: Why do you subscribe? Why do advertisers spend money on ads? Why do people write for this publication?
How long have you been getting CQ? If you're like me, I have every edition and I keep them. This is a great resource for information that is pertinent to our industry. I refer back to them often. The information is well researched and presented clearly.
The fact is, it is a quality-based resource and that's why I choose to advertise and spend time putting fingers to keyboard.
As an advertiser, it's my best source of reaching my target audience offering the best value proposition for my money. Yes, there are other magazines, but rather than throw money at them all, or for the sake of "supporting the industry", on the off-chance that someone stumbles upon it, I make an educated choice.
So back to a holistic business approach: Be you. Figure out what is important for you and your business and own it. One of the worst business practices is to try to be all things to all people. The good news is, if you are true to your convictions, they will shine through to your customers. They will benefit your business.
Next be honest and forthright. Tell the truth. You don't have to have an answer for every question. There is respect for the honest answer of "I don't know." Be sure to find the answer, if just for personal growth. Go the extra mile and follow up with the party that initiated the question.
I happened upon this quote from Alexander Hamilton, "If you don't stand for something, you'll fall for anything."
I then saw it defined by Shane and couldn't agree more:
In your lifetime, you will be faced with many questions of differing importance, and each of them will have pros and cons; points and counter points. If you decide to ride the fence too often, when you are faced with a choice that will truly affect your life [your business], you may be easily undermined. If you stand strong, be a man [or woman], respectfully answer appropriately, and respect the value of other people, choices will make sense quickly.