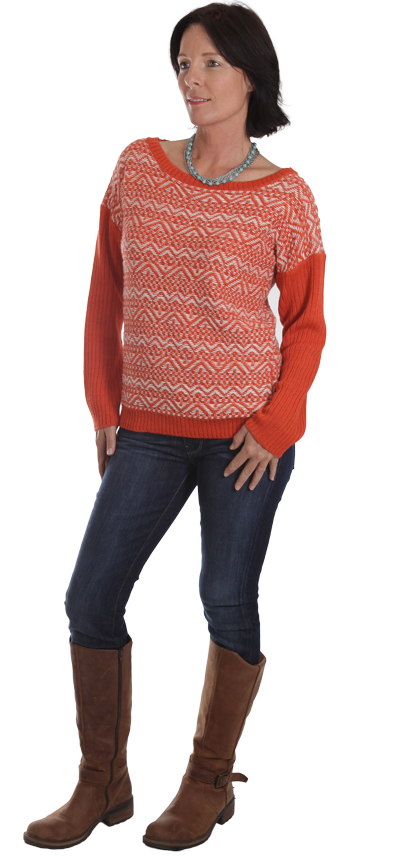 Our line of knits embody the most important elements of fashion - color, pattern, texture, and shine, for both men and women. From cardigans to pullovers, hoodies to shawls, these styles are high-quality and fashion-forward pieces that are pushing the boundaries of what people think is alpaca apparel. Born of Kimberly's travels around the globe, and ranging from urban to retro, each style truly is one of a kind.
When we set out to create a new product, we focus on two main qualities:
100% Alpaca Fiber - backed by our IAA affiliation
Timeless Style - styles that stay on trend for years to come
Quality Alpaca products that are designed right here in the USA
Inca Fashion's collections bring together natural beauty and vivid colors, to create luxurious apparel that is head turning. Every year, our fashion designers set out and identify consumer trends and market appeal. We work with manufacturers to ensure that our products meet our quality control standards for both form and function. We select color runs that breathe life into these styles, enabling them to become timeless classics with decade-long wear cycles.
We invite you to join our wholesale family and gain access to our exclusive alpaca product catalog. Click here to become an approved alpaca wholesaler.
We can verify that our Alpaca sweaters are of the highest quality available, since our products are licensed by the International Alpaca Association. Each product carries with it an IAA quality card and license number verifying its quality of fiber. In addition to being naturally hypoallergenic, our natural color Alpaca sweaters are soft, warm, and breathable. With collections for men, women, and children, it's the most robust and stylish Alpaca sweater catalog available.
Your feet will love our Alpaca socks. Alpaca is not only warm, it's natural fiber is soft and hypoallergenic. Perfect for sensitive skin. We have several lines of premium alpaca socks including dress, casual, athletic, and diabetic sock types to choose from. We are also the only source for Warrior Alpaca Socks brand socks on the market. Warrior socks are renowned as some of the best socks available. Their proprietary combination of fibers make them durable, comfortable, warm, and dry, even in the most extreme of conditions.
With Alpaca accessories ranging from coats and scarves, to mittens and boot cuffs, you'll have access to deep product catalog of quality accessories. Our pashminas, knit hats, and gloves are beautifully crafted from both Huacaya and Suri Alpaca fiber. Many styles feature hand embroidery and unequaled craftsmanship that you just won't find elsewhere. Our outerwear and accessories showcase many items for under $50.00, which make for great cross-selling options.
Your customers will love cuddling up to our Alpaca teddy bears and other adorable figures. That's because all our stuffed animals are made from Baby Alpaca — which is the finest, softest, and plushest Alpaca fur. All of our bears & figures are handmade, with unique features that ensure each and every one is different from the rest. You can rest assured that each of our Alpaca bear & figures exceeds all child-safety standards nation-wide (meeting & surpassing even state regulations).
Become an Approved Wholesaler
We invite you to join our wholesale family and gain access to our exclusive alpaca product catalog. Click here to become an approved alpaca wholesaler.