Posted by Bri Cain on 31st Jul 2015
In our last post, we discussed some of the challenges of owning and running a small boutique and how properly identifying your customer can help you be adequately prepared to meet the unique demand of your clientele. Once you've completed this period of investigation, it's time to strategically apply what you learned to place orders, creating your inventory for the season.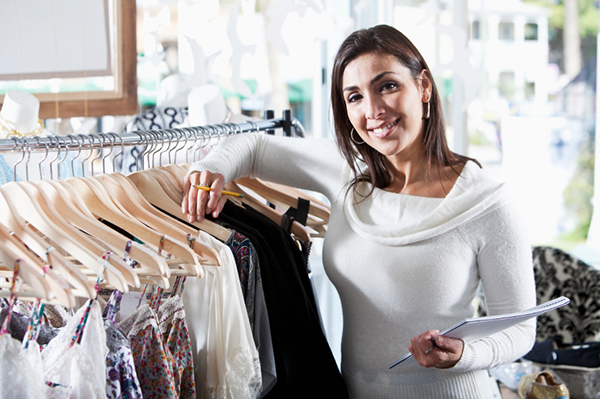 Before you start placing orders, there are a few more ways you can prepare in addition to identifying your customer:
1. Take down notes about the inventory you currently have stocked. Determine what has sold and what has not. Items still on the shelves likely represent colors, styles, and sizes that do not strongly appeal to your customers.
2. Investigate what your competitors are stocking and selling. Whether there are similar stores close by or you find yourself competing with certain online retailers, pay careful attention to their inventory so that you can avoid stocking items they stock an abundance and ensure that you carry a unique variety of stylish options.
3. Browse through popular magazines, fashion web sites, Pinterest, etc. and save images of items that are on trend and relevant to your store. (Knits are becoming increasingly popular in the fashion industry, so you should be able to find lots of inspiration!) Look for similar items when shopping line sheets, wholesale web sites, and trade shows so that when you have these items in stock, you can frame the photo and display it alongside the product. This serves to foster the impression that your store is aware of fashion trends. It also helps customers envision the product in a different context and inspires them with styling ideas.
Now that it's time to purchase inventory for the season, here are some tips on how to order appropriately for your store:
1. Identify wholesalers offering products that you feel are a good fit for your store. Attend trade shows, read trade publications, network with people who also own stores that sell alpaca. Build relationships with vendors and request to be added to their mailing list so that you'll be the first to be notified when new product becomes available or special promotions are running.
2. Contact the sales reps for the wholesalers you're interested in working with and request web site info, line sheets, catalogs, and order forms.
3. Once you are able to browse their available products, use the research you've done to help select new merchandise. Remember to ask your sales rep questions if you have them. What are their best-selling items? Do any items/order sizes qualify for discounts? Can they give you a general idea of which items your competitors have been purchasing? Vendors want to make you and your customers happy, if you succeed, we (the wholesale vendor) also succeeds!
4. The size of your order completely depends on the size and demand of your specific store. But generally, most experts recommend stocking 3-4 units of each size. Of course you can adjust this based on your store and order less of sizes you rarely sell. Buy more of classic items that will sell year-round and regardless of season and less items that are trendy and may not outlast the year.
5. Schedule deliveries to coincide with buying seasons. Most stores begin to stock for fall in August and for spring in February. January and July tend to be the biggest discount/sale months. It's a great idea to start stocking gift items in October, in time for holiday season shoppers. Remember to stock resort (a small selection of warmer weather options and brighter colors) during the winter months for those planning vacations.
And finally, always remember that we at Inca Fashions Wholesale are here to help you-- we want to see you succeed! We are experts in selling alpaca goods and are available to answer any questions you may have regarding inventory or anything else!