Posted by Bri Cain on 31st Mar 2015
Well, it's officially springtime! Though we all love spring and summer, it can be more difficult to sell knitwear in these months than during the busy fall and holiday seasons. But with a little studying up on trends and a commitment to thoroughly educate our customers on the many benefits of alpaca, we are confident that this challenge can be easily overcome!
First of all, many people are unaware that alpaca, in addition to being cozy and warm in the winter months, is also the perfect match for springtime. Make sure to remind your customers of alpaca's almost magical thermal properties. Alpacas, native to the Andean region of South America, are raised in a climate with vast temperature swings, ranging from -4 degrees at night to 70+ degrees during the day. Over thousands of years, their fleece has evolved to adapt to their environment. Alpaca wool holds pockets of microscopic space with the ability to hold air inside, heating via the animal's body warmth, or insulating against the heat of the sun. Because of these properties, alpacas keep comfortable and safe no matter the temperature, never getting too hot or too cold.
These thermal properties work for humans too, so when you wear alpaca, you are less likely to become uncomfortably overheated. As you know, once someone experiences alpaca for themselves, they will be a believer for life. So as we head into these warmer months, make sure to remind your customers that alpaca is a year-round must-have!
Another selling tip I recommend is to familiarize yourself with the season's trends as much as possible. Even those who consider themselves trend-resistant need to update their wardrobe once in a while, and making recommendations on colors and styling will position you as an expert. To get you quickly up to speed, we gathered up the...
Top Five Trends of Spring 2015
1. Soft Neutral Colors- The top color shown on the Spring 2015 runways was white, often paired with blue, black, or close-to-white neutrals like stone. A palette of whites, creams, stone, beige, and blush is right on trend and perfectly relevant to the beautiful natural shades of alpaca. Other on trend accent colors are blue (from the iciest shade to cobalt) and sunny yellow.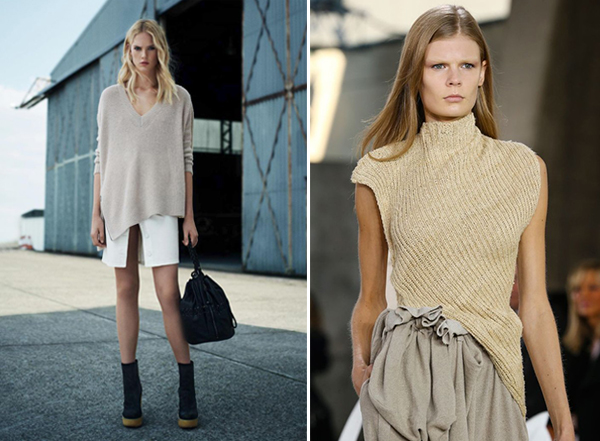 Sources: 1. All Saints Spring '15 // 2. Loewe Spring '15
2. 70's Chic- The 70's are back this season in a very big way. Expect to see a lots of suede, fringe detailing, and flared, mid-rise pants. When styling your customers, keep the 70's in mind, from colors to silhouettes.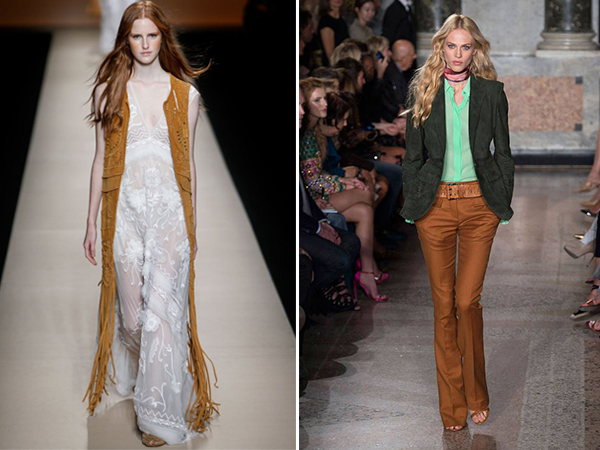 Sources: 1. Alberta Ferretti Spring '15 // 2. Emilio Pucci Spring '15
3. Bare Shoulders- In the past few seasons, midriff-baring looks have made a major comeback. This season, we're seeing an exposed midriff being replaced by exposed shoulders. (We are much more in favor of the exposed shoulders look!) Tops with shoulder cutouts are very popular, but this look can also be achieved with sleeveless tops and by wrapping a pashmina over a tank or strapless top in such a way that the shoulders are exposed.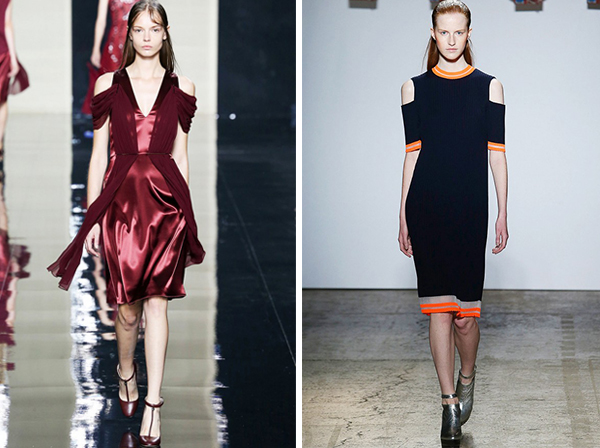 Sources: 1. Christopher Kane Spring '15 // 2. ADEAM Spring '15
4. Head to Toe White- This is a trend that's been building over the past few seasons and is feeling as fresh as ever. You can go strictly monochromatic by pairing a bright white top with bright white bottoms or play with slightly different shades. I always love an ivory or cream sweater with bright white jeans! Including a lightweight knit piece, like a sweater or a scarf, keeps the look feeling summery while remaining texturally rich.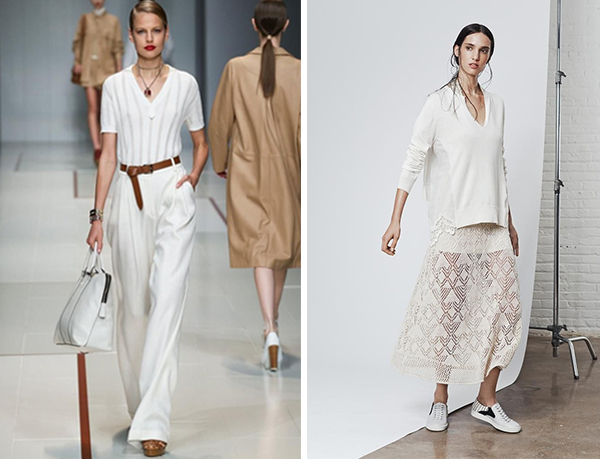 Sources: 1. Trussardi Spring '15 // 2. Thakoon Spring '15
5: Gingham and Floral Prints- These traditionally feminine prints have sometimes bordered on saccharine, but they provide just the right amount of sweetness amidst the current fashion backdrop. Both gingham and florals feel fresh for the new season in on trend color combinations and larger scale prints. Encourage your customers to layer these prints with a coordinated solid color cardigan or scarf to balance out the look, keeping the print from being too overwhelming.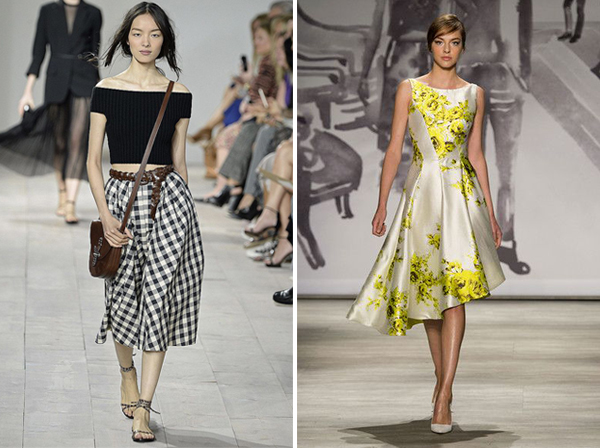 Sources: 1. Michael Kors Spring '15 // 2. Lela Rose Spring '15
We think this season's trends are perfectly complemented by the luxurious softness of alpaca in its beautiful natural shades as well as the colors that are currently trending. Please let us know if we can aid you in stocking your store for spring and help ensure that your customers will find the perfect choices for the upcoming seasons!